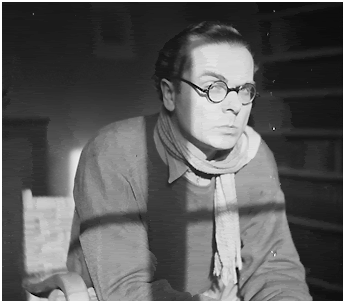 At the Museum Ostdeutsche Galerie in Regensburg the almost unknown photographic work of
Arno Schmidt is displayed. Arno Schmidt is mainly known as an author of German experimental literature, but he also produced about 2500 colour photographs and 1000 black and white photos in his lifetime. 70 colour prints and 100 black and white prints were chosen for the exhibition.

Arno Schmidt mainly took photos of his environment, his wife, his house, his garden, the landscape close to Bargfeld near the flat landscape of the "Lüneburger Heide", where he lived the last years of his life. His also seemed to have taken pleasure in photographing small cats and cacti.
The curator of the show Dr. Roman Zieglgänsberger describes him as a "highly gifted amateur". "This wide landscape is transformed magically by the insisting gaze of the photographer. As a dia on the wall this dull and beautiful landscape becomes stunningly meaningful."
In this point I cannot follow the curator. The pictures didn't seem more meaningful to me than the photos of less famous amateurs, they were not better composed nor technically more brilliant. Also the quite pretty pictures of playing cats and the somewhat blurred photo of a blooming cactus didn' t convey a deeper meaning to me.
The photos I liked best were portraits of the author, that were taken by his wife. I got the impression that the curator concluded from Arno Schmidt's important literary work that his photography also has to be very meaningful.
The exhibition perhaps would have been more interesting, if more connections to Arno Schmidt as an author had been made.